18/9 Kulturnatt på Nya Perspektiv
livestreaming här: https://youtu.be/nyiZKJD7nEo
fri entré
besökare till lokalen till slottsgatan 19, behöver föranmäla sig till: rvsp@nyaperspektiv.se, vi har få anvisade sittplatser pga denna kväll pga omständigheterna. Vi hänvisar främst till livestreamingen. (besökare till lokal kommer inte att få se helheten då vi kommer att ha en bluescreen bakom artisterna).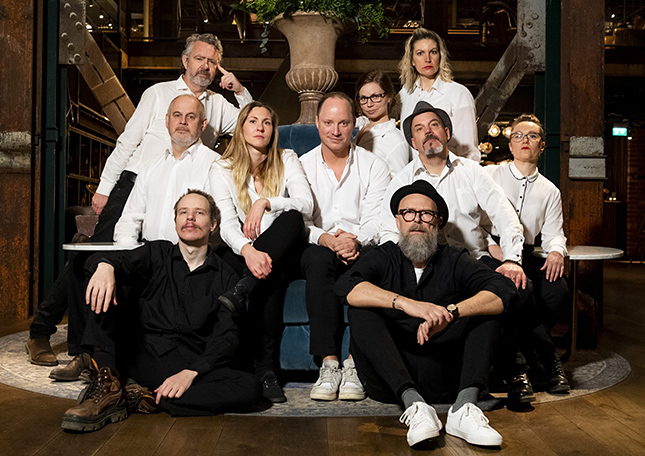 18.00 Västerås Improvisationsteater
Improvisationsteater sker i stunden. Allt skapas av impulser i skådespelarnas hjärnor. Alla repliker, kroppsspråket, karaktärerna och samarbetet görs på uppstuds utan att tänka, rent instinktivt. Det är dessa ögonblick som gör improvisationsteater så oförsägbart och underhållande. Vi tar emot interaktion via livechat i youtube!
https://vimpro.se/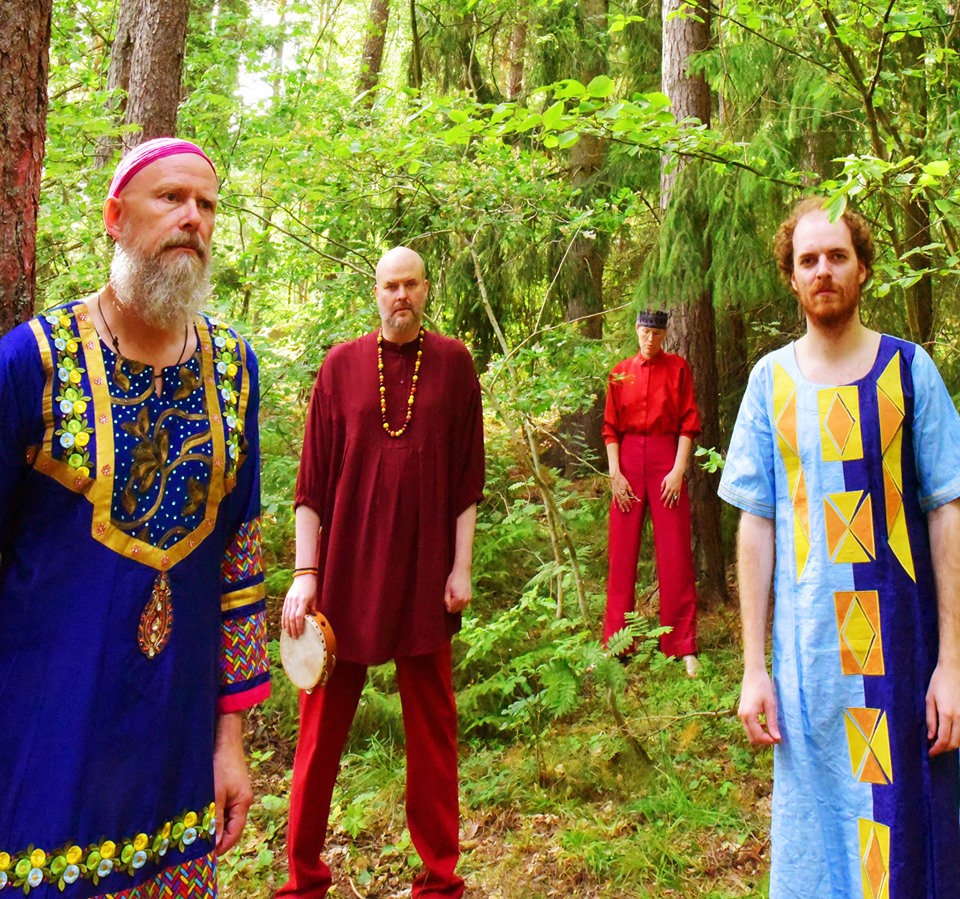 19.20 CCHE
Monoton improvisation med trummor och elbas över ringlande synthmattor med doft av Tallinn. Under kvällen framförs några stycken som blir till i stunden.
Curt Östlund – synthar
Christ Rispling – trummor
Helena Östlund – elbas
Erik Binbach – elgitarr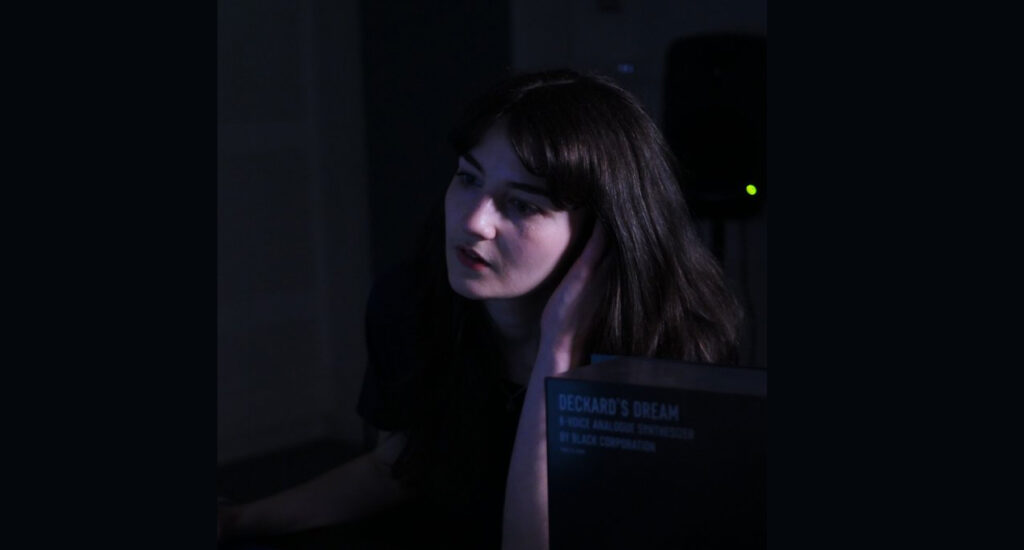 20:40 Sonja Tofik
Tofiks värld skapar en emergens av mörk neo-folk, synthdroner och orglar som svävar in i melakolisk minimalistiska kompositioner.
Albumet Anomi släpptes i slutet på oktober 2020, då pandemien rusade i världen.
Anomi is the Swedish word for the sociological term anomie, first coined by french sociologist Émile Durkheim in 1893. Described as 'the condition in which society provides little moral guidance to individuals', he suggested that for societies to function and their individuals to prosper, they need to be driven by strong and distinct norms, both social and moral. If absent, individuals are exposed to anomie, and start to inhibit self-destructive behavior. Anomie is a state of suffering, an absence of affinity, both to the individual and to society—which creates dissonance in the human experience. It denies us the presence of death and disconnects humanity from its nature and inherent mysticism.
https://cargocollective.com/sonjatofik
Ambient goth? Dungeon synth? Graveyard chic? Anomi begins with cawing crows! Genre-based semantics aside, Anomi is a magical album that is certainly at the darker end of the experimental spectrum. freersounds

https://w.soundcloud.com/player/?visual=true&url=https%3A%2F%2Fapi.soundcloud.com%2Fusers%2F69020859&show_artwork=true&maxheight=711&maxwidth=474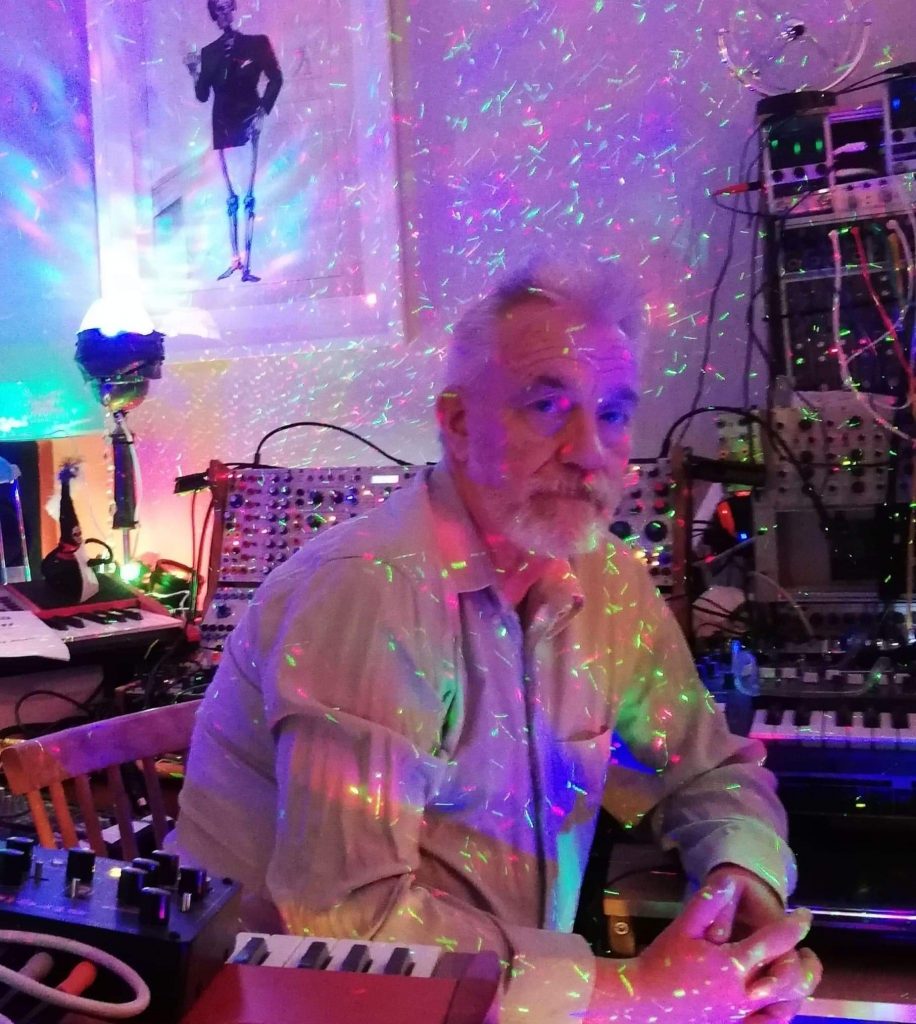 22:00 Analog Dream Plant
För 51 år sedan spelade Morton Subotnik elektronmusik i Folkets Hus A-sal. Med sig hade han en Buchla, den första synt som skapats. Ljuden spelade han upp i fyra högtalare, en i varje hörn av rummet.
Musiken framförs på en Buchla, samma typ av instrument som Morton Subotnik hade på sin sverigeturné. Det är sällan det hörs live, det finns bara fem instrument i Sverige, varav två på musikhögskolor och en tredje på Elektronmusikstudion EMS.
Analogue Dream Plant/Per Wikström – Buchla.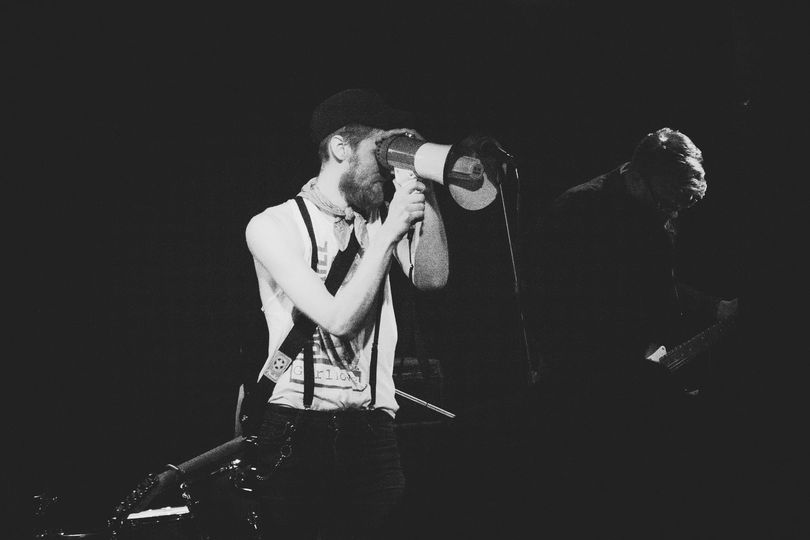 23:20 Monopunk SWE
Synth och gitarr skapar grunden i det ljudlandskap som Monopunk SWE botaniserar. En urban miljö med mänskliga möten i bakgator, tunnelbanestationer och sena repkvällar.
Johnny Pousette: sång, gitarr m.m.
Man Rave: synth mm.
https://ambientpunkrecords.wixsite.com/monopunkswehttps://w.soundcloud.com/player/?visual=true&url=https%3A%2F%2Fapi.soundcloud.com%2Fusers%2F135089372&show_artwork=true&maxheight=711&maxwidth=474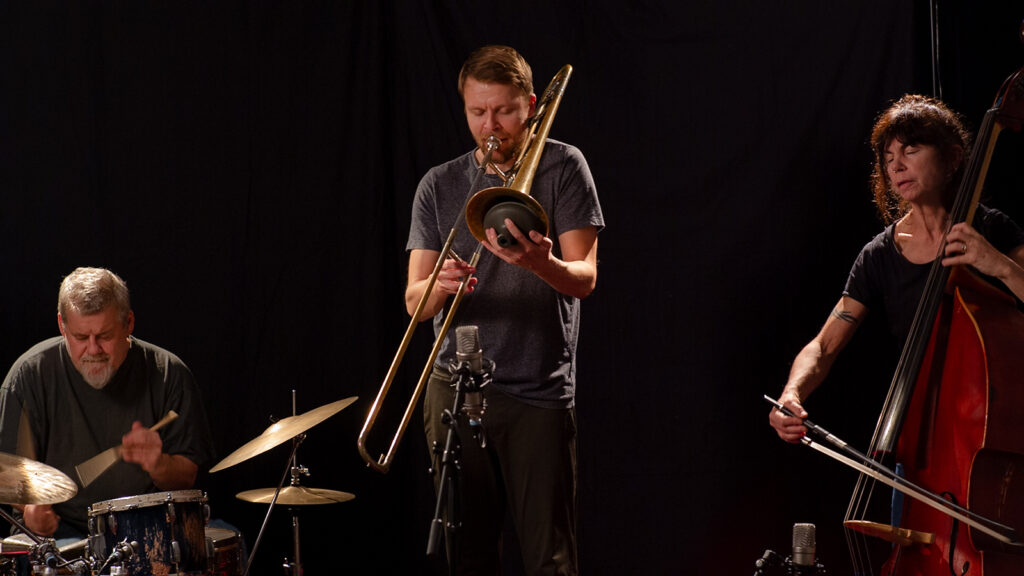 25/9 Henrik Munkeby Nørstebø / Raymond Strid / Nina de Heney.
Den norska trombonisten Henrik Munkeby Nørstebø har under de senaste åren delat scener med ett stort antal inflytelserika improvisatörer. Ett av hans återkommande projekt har varit trion med den svenska trumslagaren Raymond Strid och kontrabassisten Nina de Heney. Sedan 2011 som trion har funnits har musiken ständigt utvecklats i gruppen. Musiken rör sig ständigt naturligt framåt mellan spänning och frigöring samt mellan nolltillstånd och musikaliska explosioner.
Henrik Munkeby Nørstebø – trombon
Nina de Heney – kontrabas
Raymond Strid – trummor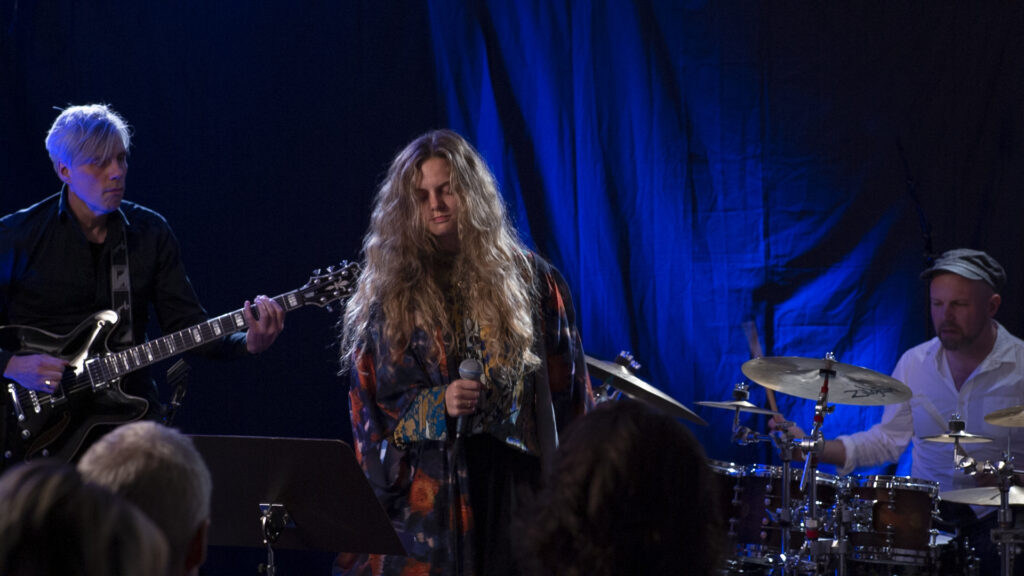 23/10 A Forest
A Forest är inga nykomlingar. Bandets medlemmar har långa karriärer bakom sig, både som soloartister och musiker i etablerade akter på den svenska och internationella musikscenen. Förutom solokarriärer så har medlemmarna hörts med namn som Sonic Youth, Änglaspel och Militanta Jazzmusiker, Bohuslän Big Band, Lena Willemark. I maj 2018 äntrade bandet Studio Eternal Darkness där de spelade in sina favoritlåtar. Med sitt egna, råa sound tolkar A Forest hämningslöst andra artisters musik och sätter sin egen prägel på materialet med sitt samspel och uttryck.
Maria Eivi – sång
Thomas Gunillasson – gitarr
Johan Björklund – trummorhttps://w.soundcloud.com/player/?visual=true&url=https%3A%2F%2Fapi.soundcloud.com%2Fplaylists%2F610962597&show_artwork=true&maxheight=711&maxwidth=474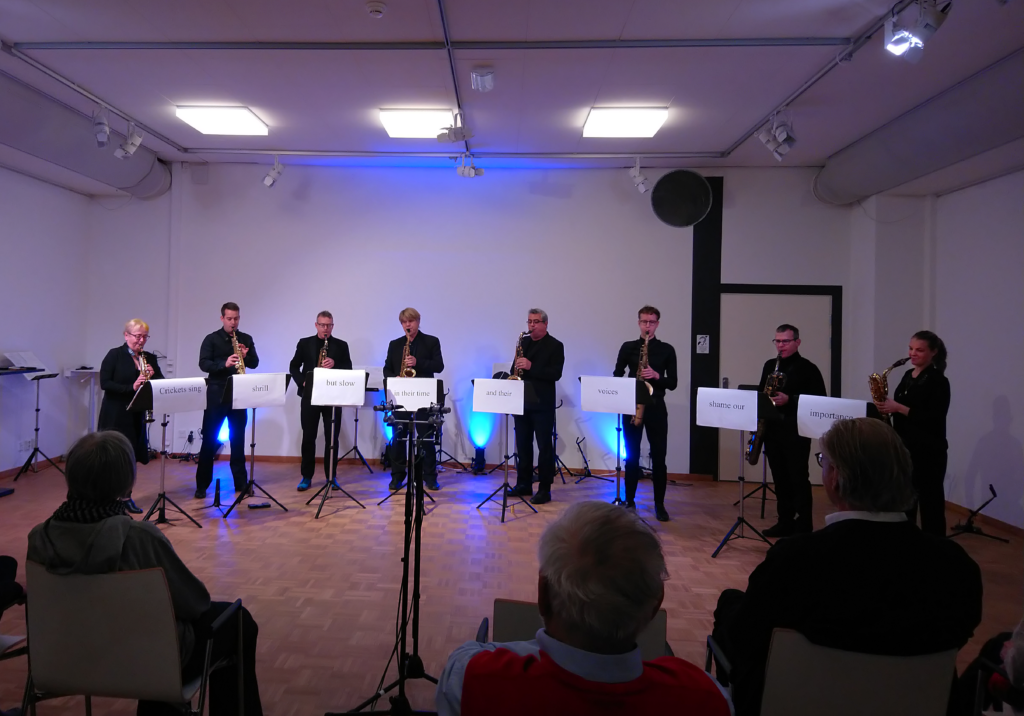 29/10 Quasar/SSQ– Lunchkonsert – Hörsalen Krlsg2
Konsertplats: Hörsalen, KRLSG 2, Karlsgatan, Västerås
Tid: 13.00
Fri Entré
Known for their energy and bold innovation, the four members of Quasar have been exploring the innumerable facets of musical creation since the group's founding in 1994. The group's ventures include instrumental music, improvisation, and electronics. Alone or accompanied by a symphony orchestra, acoustic or plugged, Quasar offers its audience a unique and deeply original programming.
The ensemble has won 6 OPUS awards awarded by the Conseil québécois de la musique , including the "Artist of the Year" prize. Quasar presents a series of concerts in Montreal while performing extensively across Canada, Mexico, the United States and Europe. It has been invited by international festivals such as : Busan Maru (Korea), Ars Musica (Brussels), SALT Festival (Victoria), Tonlagen (Dresden).
A real driving force of creative music, the quartet works closely with composers favouring research, experimentation and the emergence of new ideas.
Quasar aims to contribute to the enrichment of our musical heritage and to provide a platform for new music experimentation, exploration and production. The quartet has proudly commissioned over 150 works over the course of its twenty years of activity. During that time, it has performed as a solo group with, among others, the Montreal Symphony Orchestra, the Winnipeg Symphony Orchestra and the Hanzhou Philharmonic Orchestra.
Quasar, in addition to being very involved in the creation of new works, also presents a very diversified repertoire ranging from classical music to jazz, allowing the group to fully demonstrate the saxophone's multiple facets. These concerts provide a stimulating and most interesting way of reaching out to the public.
Quasar is a member of Le Vivier , a grouping of ensembles and organizations working in new music , with a goal to establish a venue for creation, exchange and training in the heart of Montreal.
Marie-Chantal Leclair – Soprano saxophone
Mathieu Leclair – Alto saxophone
André Leroux – Tenor saxophone
Jean-Marc Bouchard – Barytone saxophone
Stockholms Saxofonkvartett bildades 1969 av Sven Westerberg. Nuvarande besättning består av; Linn Persson, Leif Karlborg, Jörgen Pettersson och Mathias Karlsen Björnstad. Kvartetten har specialiserat sig på svensk och utländsk kammarmusik för saxofoner samt avancerad elektroakustisk musik – kvartetten har fått sig tillskrivet mer än 700 verk.
En röd tråd i deras verksamhet är ett nära samarbete med svenska och utländska tonsättare, liksom blivande kompositörer, framför allt vid Kungliga Musikhögskolan i Stockholm. Kvartetten håller seminarier, deltar i konserter och samarbetar med konstnärer i andra genrer än den egna.
Deras sätt att arbeta har snabbt utvecklat deras stil och skicklighet och de tillhör våra absolut främsta interpreter på sitt mycket omfattande område. Stockholms Saxofonkvartett drivs av en obändig lust att ständigt utforska och spränga gränserna för vad som sägs vara konstnärligt möjligt att åstadkomma. De framträder ofta på internationella festivaler samt i opera- och konserthus. Deras förmåga att väcka intresse för nutida musik kommer kontinuerligt allt fler tillgodo.
Kvartetten har stor resvana – de har turnerat runt om i Europa (t. ex. Baltikum, Frankrike, Tyskland, Italien, Ungern, Grekland, Polen, Bosnien, Serbien, Kosovo, Rumänien, Ryssland, Georgien, Ukraina) och de har framträtt i Iran, Bolivia, USA, Turkiet, Egypten, Israel, Sydafrika, Japan, Kina och Mongoliet.
Stockholms Saxofonkvartett sprider svensk musik i utlandet och tar med sig nya musikaliska erfarenheter och upplevelser hem till den svenska publiken.
Sedan 2016 arrangerar Stockholms Saxofonkvartett och Studio 53 festivalen Svensk Musikvår vilken under en vecka presenterar svensk konstmusik på Stockholms främsta kulturscener. Festivalen har blivit ett unikt manifest för samtida musik och stöds av Sveriges största kulturinstitutioner.
Mathias Karlsen Björnstad
sopransaxofon
Jörgen Pettersson
altsaxofon
Leif Karlborg
tenorsaxofon
Linn Persson
baritonsaxofon
https://stockholmsax.com/https://www.youtube.com/embed/VbqdudYB2jE?feature=oembedhttps://www.youtube.com/embed/yelZq-ZXHNU?feature=oembed
Á la dérive (2019) – Simon Bertrand (CA)
pour octuor de saxophones
Swirls and Shades (2019) – Jenny Hettne (SE)
för saxofonoktett
Seokgamoni Bul (2018) – Alexandre David (CA)
pour octuor de saxophones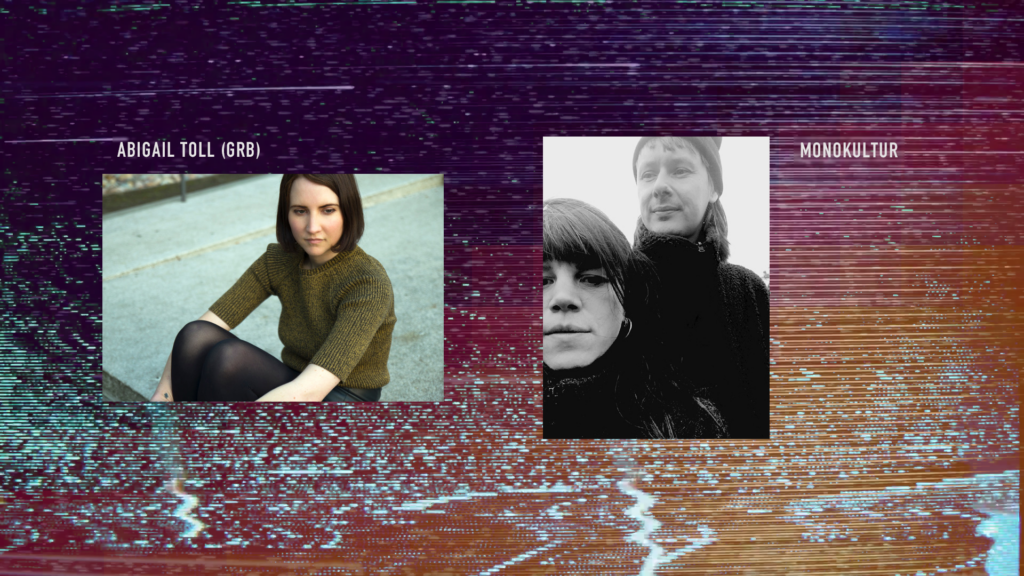 10/11 Abigail Toll – Monokultur (obs! onsdag)
19.00 Abigail Toll (GRB)
Abigail Toll is an English experimental music artist who also performs under the moniker Ionian Death Robes. Her multidimensional soundscapes combine electronics and acoustic instruments, primarily flutes, that oscillate between heavy washes of drone, aural entanglements and psychoacoustic sensations. She has framed this method with artistic sonification to envision the dismantlement of power systems. She completed a Masters in Electroacoustic Composition from the Royal College of Music in Stockholm in 2021 and received mentorship from Caterina Barbieri during her Amplify Berlin Residency in 2018.
Abigail Toll (GRB) – electronics
https://abigailtoll.bandcamp.com/releaseshttps://w.soundcloud.com/player/?visual=true&url=https%3A%2F%2Fapi.soundcloud.com%2Fusers%2F280261913&show_artwork=true&maxheight=711&maxwidth=474
ca 20.00 Monokultur
Det göteborgsbaserade undergroundprojektet Monokultur består av Julius Pierstorff och Elin Engström. Med post-punkiga undertoner och poetiskt och medvetet monotona vardagsdramer fullt av liv och alternativt sprängstoff för nyhetssedlarna.
Elin + JJulius = Monokultur!
What, for me, positions this above their still-great first album, is nothing more complex than the benefit of time. Those early recordings were as blunt and unrefined as they were a compelling reimagining of their influences, but on Ormens Väg, Monokultur have crystallised into something beyond their sharp reference points. Yes, the songs are better recorded, the compositions more defined. But that's not quite it… More so than the music itself, what Monokultur mostly share with those cited 4AD acts is that ability to construct a world around themselves, to understand the value in the cult and occulted, the latter helped hugely by their insistence on singing mostly in the mysterious harsh tones of their native language (and perhaps this music lands differently with non-Swedish speakers?). Make no mistake, Ormens Väg is world-making of the highest grade. The last few years have often had me wondering if Gothenburg is the centre of the universe. Here's another reason why…Best of the year so soon?"