21/3 Henrik Munkeby Nørstebø/Nina de Heney/Raymond Strid
INSTÄLLT!
Den norska trombonisten Henrik Munkeby Nørstebø har under de senaste åren delat scener med ett stort antal inflytelserika improvisatörer. Ett av hans återkommande projekt har varit trion med den svenska trumslagaren Raymond Strid och kontrabassisten Nina de Heney. Sedan 2011 som trion har funnits har musiken ständigt utvecklats i gruppen. Musiken rör sig ständigt naturligt framåt mellan spänning och frigöring samt mellan nolltillstånd och musikaliska explosioner.
Henrik Munkeby Nørstebø – trombon
Nina de Heney – kontrabas
Raymond Strid – trummor
http://www.henriknorstebo.com/nsdh
4/4 ANALOGUE DREAM PLANT (PER WIKSTRÖM)
INSTÄLLT!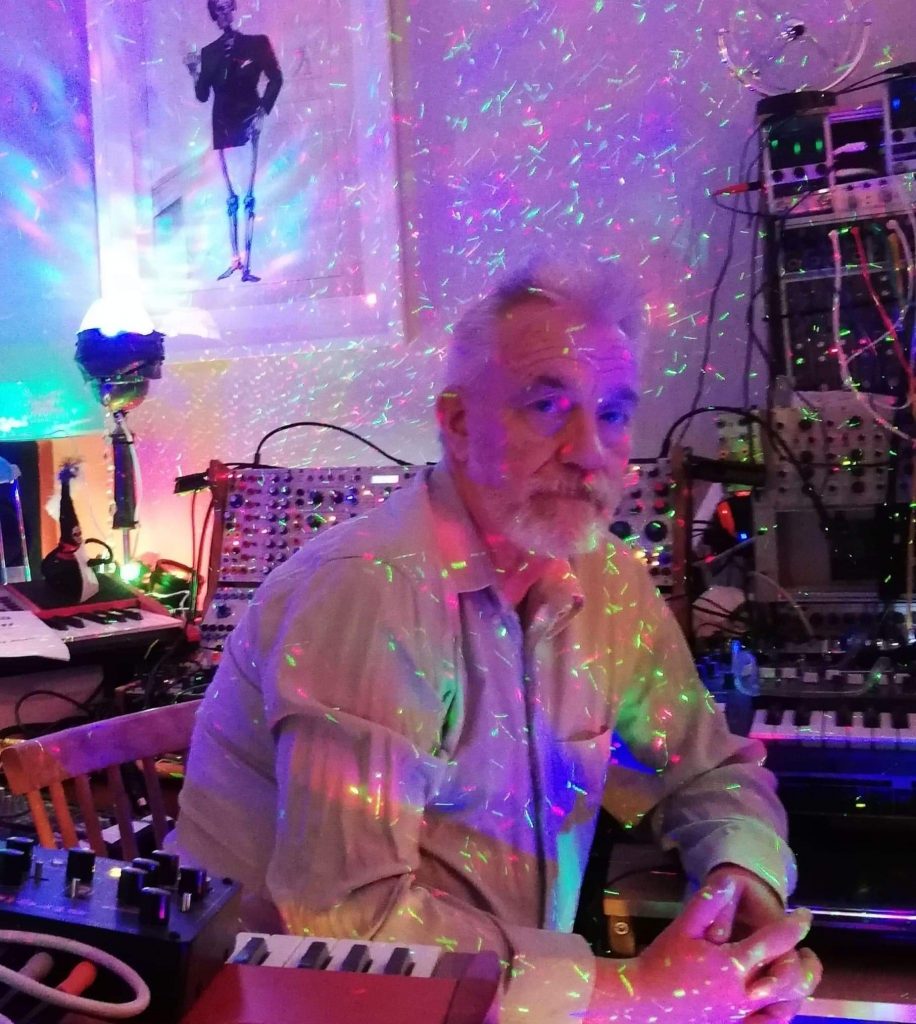 För 50 år sedan spelade Morton Subotnik elektronmusik i Folkets Hus A-sal. Med sig hade han en Buchla, den första synt som skapats. Ljuden spelade han upp i fyra högtalare, en i varje hörn av rummet. För att hylla honom har Analogue Dream Plant/Per Wikström en konsert med fyrkanalsmusik på Klubb 19, passande nog den 4/4.
Musiken framförs på en Buchla, samma typ av instrument som Morton Subotnik hade på sin sverigeturné. Det är sällan det hörs live, det finns bara fem instrument i Sverige, varav två på musikhögskolor och en tredje på Elektronmusikstudion EMS.
I samband med konserten visar Analogue Dream Plant upp en del av kollektionen Nordic Light, lampskulturer som projicerar laserljus och vandrande färger på väggar och tak.
Lamporna är till salu under konsertkvällen. Även den är en hyllning till Subotnik som i San Fransico Tape Center och i den tidiga
Flower Power-rörelsen mötte och använde ljusshower tillsammans med musiken.
Konserten börjar klockan 20:00, utställningen med lampskulpturerna öppnar klockan 18:00
Om Analogue Dream Plant/Per Wikström:
Per Wikström började med elektronmusik i mitten av 80-talet, bland annat på Elektronmusikstudion EMS, som då var centrum för ung elektronmusik. Han har sedan dess komponerat och uppträtt, blad annat i USA och Belgien.
Senaste utlandsengagemanget var med specialskriven musik till en konstutställning i San Diego. Men på spellistan finns också mer
närliggande platser, som Stora Torget i Strängnäs. Flera spelningar har varit på olika gallerier i samband med utställningar.
Han har också producerat musik för teater och television.
Som konstnär är hans produktion blygsammare. 1990 var han med på Vårsalongen i Västerås, sedan dess har han varit ganska tyst, fram till nu, när han börjat med lampskulpturerna. Dock har han varit flitig vid datorn och kommit ut med ett tiotal böcker, såväl facklitteratur som romaner och barnböcker.
14/5 LIVESTREAM – STOCKHOLMS SAXOFONKVARTETT 20:00 DIREKT IFRÅN MUSIKALISKA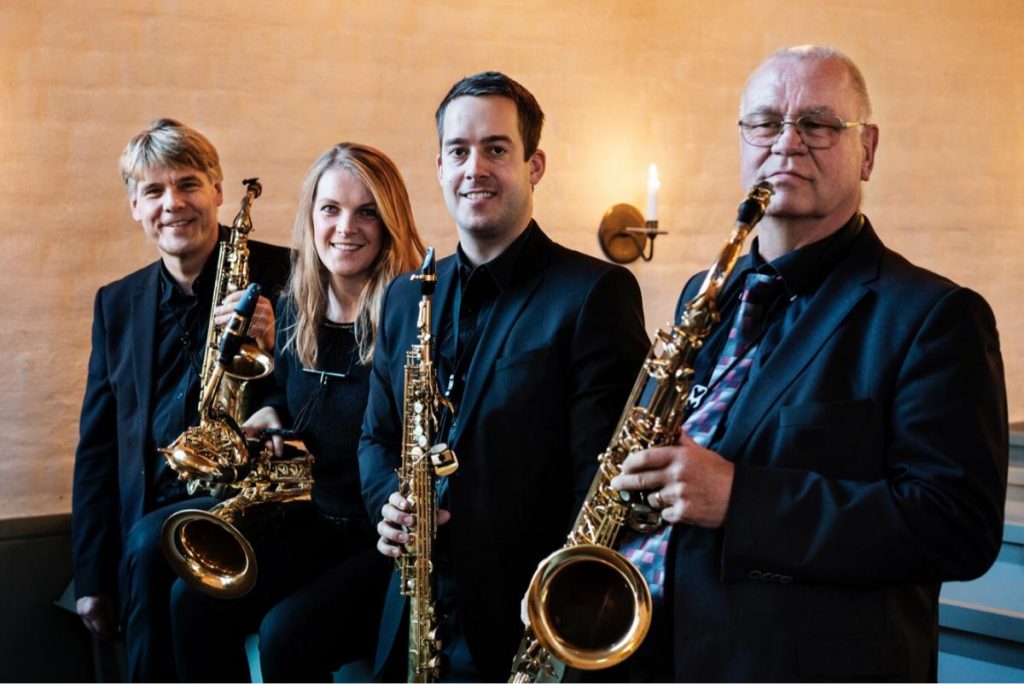 Tid: Livestream ifrån Musikaliska startar 20.00 nedan
Entré/Access: fri access.
Stockholms Saxofonkvartett bildades 1969 av Sven Westerberg. Nuvarande besättning består av; Linn Persson, Leif Karlborg, Jörgen Pettersson och Mathias Karlsen Björnstad. Kvartetten har specialiserat sig på svensk och utländsk kammarmusik för saxofoner samt avancerad elektroakustisk musik – kvartetten har fått sig tillskrivet mer än 700 verk.
En röd tråd i deras verksamhet är ett nära samarbete med svenska och utländska tonsättare, liksom blivande kompositörer, framför allt vid Kungliga Musikhögskolan i Stockholm. Kvartetten håller seminarier, deltar i konserter och samarbetar med konstnärer i andra genrer än den egna.
Deras sätt att arbeta har snabbt utvecklat deras stil och skicklighet och de tillhör våra absolut främsta interpreter på sitt mycket omfattande område. Stockholms Saxofonkvartett drivs av en obändig lust att ständigt utforska och spränga gränserna för vad som sägs vara konstnärligt möjligt att åstadkomma. De framträder ofta på internationella festivaler samt i opera- och konserthus. Deras förmåga att väcka intresse för nutida musik kommer kontinuerligt allt fler tillgodo.
Kvartetten har stor resvana – de har turnerat runt om i Europa (t. ex. Baltikum, Frankrike, Tyskland, Italien, Ungern, Grekland, Polen, Bosnien, Serbien, Kosovo, Rumänien, Ryssland, Georgien, Ukraina) och de har framträtt i Iran, Bolivia, USA, Turkiet, Egypten, Israel, Sydafrika, Japan, Kina och Mongoliet.
Stockholms Saxofonkvartett sprider svensk musik i utlandet och tar med sig nya musikaliska erfarenheter och upplevelser hem till den svenska publiken.
Sedan 2016 arrangerar Stockholms Saxofonkvartett och Studio 53 festivalen Svensk Musikvår vilken under en vecka presenterar svensk konstmusik på Stockholms främsta kulturscener. Festivalen har blivit ett unikt manifest för samtida musik och stöds av Sveriges största kulturinstitutioner.
program:
Tomasz Skweres – Penrose Square
Nils Henrik Asheim – Glasshus
Nina Šenk – Phases of Water
Tatjana Kozlova – Johannes – Lost motion
Paula af Malmborg Ward – Desire Encapsulated

se beskrivningar av verk och tonsättare nedan.
Mathias Karlsen Björnstad
sopransaxofon
Jörgen Pettersson
altsaxofon
Jesper Eriksson (vik för Leif Karlborg)
tenorsaxofon
Linn Persson
baritonsaxofon
Livestreaming genomförs med stöd av

TOMASZ SKWERES: PENROSE SQUARE
The Penrose square is an impossible object of the class of ambiguous figures in which parts of the picture that are not ambiguous are drawn in incompatible
perspectives. Ambiguous figures are those that, for the viewer, flip back and forth between equally possible perspectives of the object represented. Impossible figures like the Penrose square provide opportunities both for valuable research into human perceptual processes and to bring joy and
fascination to many through their inclusion in works of art. Such artworks reveal humankind's endless fascination with the creative and unusual. These instances can also help us realize that our own perceptions may be limited or different
from those of another person viewing the same thing. The piece Penrose Square for saxophone quartet shows in an acoustic way a play with the human perception and expectation.
Tomasz Skweres, born in 1984, is a Polish-Austrian composer and cellist, who lives and works in Vienna in Austria and Regensburg in Germany. He studied composition with Chaya Czernowin and Detlev Müller-Siemens and
cello with Valentin Erben and Stefan Kropfitsch at the University of Music and Performing Arts in Vienna. He composed pieces commissioned by Radio Symphony Orchestra Vienna, by Konzerthaus in Vienna, Festival Wien Modern, Festival Musica Polonica Nova in Wroclaw, Philharmonic Orchestra Niederbayerische Philharmonie, Philharmonic Orchestra Regensburg, Theater Regensburg, Leopoldinum Orchestra in Poland, Apollon Musagète Quartet,
Ensemble Zeitfluss in Graz, Ensemble Wiener Collage and by many others.
His pieces were broadcasted in different countries – Austria, Germany, Italy, Poland, Australia, Mexico – and recorded by professional labels as Genuine, Col legno, Orlando Records.
Works by Tomasz Skweres are regularly performed at renowned festivals all over the world, such as Wien Modern, Biennial Bern, ISCM World Music Days 2016 in Korea/Tongyeong International Music Festival, Festival Musica 2015 in Strasbourg, Musica Polonica Nova, Festival Klangspuren in Tirol, Festival Goslar-Harz and many others.
Tomasz Skweres won many prizes and competitions such as composition competition for the obligatory piece for the International Joseph Haydn Chamber Music Competition in Vienna 2007 in the category string, the composition competition of the Ernst Krenek Institut in Austria 2014, Prize for Music (Composition) of Vienna 2015, TONALi 2017 composition competition,Mustafa Kemal Atatürk International Composition Competition 2019 and many others.
Since 2012 Tomasz Skweres has been Principal Cellist in the Philharmonic Orchestra Regensburg in Germany. Between 2016-2017, he lectured cello classes at the Music University in Detmold. He is also an active interpreter in the field of contemporary music."
NILS HENRIK ASHEIM: GLASSHUS
Glasshus (Glass House) takes advantage of the homogeneous sound of the saxophone quartet in order to create music with blurred contours. The four voices are either circling around a central pitch as if searching for their way in a dark room, or superimposing rapid, fluttering figures without any common
direction. This is put into perspective by windows of short, loud exclamations and resonating, ringing chords, in a stepwise sequence of events that does not aim for any synthesis but rather tries to understand one's position through varying angles.
The piece was written for the Norwegian ensemble Saxophone Concentus in 2001. It was premiered on a very cold winter night at one of the very first public events called "Site Under Construction" at Tou Scene, Stavanger, Norway. This centre for contemporary arts had just begun its development in an abandoned brewery, with the composer of this piece as one of its pioneer founders.
Nils Henrik Asheim, born in 1960, enjoys a combined career as composer and performer. He started out as a composition pupil of Olav Anton Thommessen and made his début at the UNM Nordic Festival for young composers in Helsinki at the early age of fifteen. In 1978, he was awarded the EBU Rostrum prize for his work Ensemblemusikk for 5. He subsequently went on to study organ and composing at the Norwegian Academy of Music and the Sweelinck Conservatory in Amsterdam.
As an organist, Asheim has performed in Scandinavia, Germany, Austria, Great Britain, Serbia, Slovakia, France and the United States. Asheim has been the resident organist of the new concert hall in Stavanger since its opening in 2012. There, he has displayed an innovative way of creating activities around the organ, and managed to get a large audience for the instrument.
Nils Henrik Asheim has written several chamber music pieces, works for symphony orchestra, organ and choirs, as well as projects in public space and also using theatrical elements. He has been awarded the Nordic Council Music Prize, the Arne Nordheim prize, the Edvard prize and the Lindeman prize and
twice the Spellemannsprisen. His children's opera The Tempest, commissioned and premiered by the Norwegian Opera and Ballet, won the RESEO opera for Young Audience award.
Since 1991, Asheim has been living in Stavanger, where he is active as a composer, musician and organizer. He was the principal initiator of the founding of Tou Scene, an alternative centre for contemporary arts in an abandoned factory building.
NINA ŠENK: PHASES OF WATER
Phases of Water was written in 2006 while studying in Dresden, Germany. It was commissioned by 4Saxess Saxophone Quartet and has been performed over twenty times since. The piece has four movements, each one represents a specific state (phase) of water. The joint characteristics of all movements are
constant flow, emphasis on the rhythmic structure and passing the material from one to the other saxophone.
Nina Šenk graduated in composition from the Ljubljana Academy of Music under Prof. Pavel Mihelčič, then continued her postgraduate studies in composition in Dresden under the mentorship of Prof. Lothar Voigtländer and obtained her master's degree in the class of Prof. Matthias Pintscher at the University of
Music and Performing Arts in Munich, in 2008.
She is a recipient of many awards, including the European Award for the Best Composition at the Young Euro Classic Festival for her Violin Concerto in 2004, the Academy of Music Prešeren Award and the first prize at the Weimar Spring Festival of Contemporary Music for her composition Movimento fluido in 2008. In the 2008/2009 and 2009/2010 seasons, Nina Šenk was a Composer in Residence of the Staatstheater Cottbus Orchestra in Germany. In 2010, the Rector of the University of Ljubljana awarded her a special recognition for artistic work in the area of musical composition and performance as well as architecture. In 2017, she was awarded the Prešeren Fund Prize for her creative work in the previous two years.
Nina Šenk's works have been performed at numerous important international festivals (BBC Proms, New York Philharmonic Biennial, Salzburger Festspiele, Young Euro Classic Berlin, Kasseler Musiktage, Musica Viva Munich, Frankfurter
Positionen, Weimarer Frühjahrstage, Heidelberger Frühling, Takefu Festival (Japan), Ljubljana Summer Festival, Slowind Festival, Slovenian Music Days, World Music Days, World Saxophone Congress, etc.) and in many other concerts around the world with various orchestras and ensembles (New York
Philharmonic Orchestra, Staatstheater Cottbus Orchestra, Young Euro Classic Festival Orchestra, Slovenian Philharmonic Orchestra, RTV Slovenia Symphony Orchestra, Ensemble InterContemporain, Ensemble Modern, Scharoun Ensemble,
Ensemble Mosaik, London Sinfonietta, Ensemble United Berlin, Slowind Wind Quintet, Ensemble Aleph, Altera Veritas, MD7, DC8, Ensemble Concorde, Kammersymphonie Berlin and others).
TATJANA KOZLOVA-JOHANNES: LOST MOTION
Tatjana Kozlova-Johannes says about her piece: "Writing this piece, I had an image in mind of a body in a very slow motion or completely immobile at times, with a great inner intensity and continuously flowing power, which can emerge at moments, when our attention stops focusing on the outer world."
Tatjana Kozlova-Johannes is an Estonian composer of Russian origin. She grew up in the border towns Narva and Ivangorod, situated at the border between Estonia and Russia. In 1995, she decided to dedicate herself to music studies in Estonia, at Georg Ots Tallinn Music School. In 1999, she continued to study
composition at the Estonian Academy of Music and Theatre, at first with Jaan Rääts and since her second year with Helena Tulve, obtaining later also a Master's degree under her guidance.
Tatjana Kozlova-Johannes has supplemented herself in various Master classes, including Bartók Festival (Szombathely, Hungary), Workshop for Young Composers (Dundaga, Latvia), International Summer Course for New Music in Darmstadt, Germany. Between 2003-2004, she studied composition with Fabio Nieder at the Conservatory G. Tartini of Trieste, Italy.
Currently, she teaches composition at Georg Ots Tallinn Music School. In cooperation with Helena Tulve, Kozlova-Johannes carries on Master classes of "sound objects" that aim to develop and recover the listening skills. Her works have been performed by several renown collectives in Estonia and abroad, including Ensemble U:, Resonabilis, Estonian National Symphony Or-
chestra, ICTUS, Klangforum Wien, Ensemble Phoenix Basel and Neue Vocal- solisten Stuttgart.
In 2004, Kozlova-Johannes was awarded a third place in the youth category at the International Rostrum of Composers in Paris for the work Made of Hot Glass. In 2006, Kozlova-Johannes was awarded the Kranichsteiner Musikpreis – the main award of the International Summer Course for New Music in Darmstadt,
and in 2008 the Heino Eller Music Prize. Tatjana Kozlova-Johannes's works have been voted among the best 10 works in the general category at the International Rostum of Composers: Disintegration Chain in 2011 in Vienna and Lighting the
Fire in 2018 in Budapest. In 2015, she was awarded the Annual Prize of the Endowment for Music of the Cultural Endowment of Estonia.
PAULA AF MALMBORG WARD: DESIRE ENCAPSULATED
"Desire encapsulated" – saxophone Quartet (10 min), was successfully premiered at Dark music days, Reykjavik 2/2. Back in 1993, on my birthday, Stockholm Saxophone Quartet premiered "Yakuzi" in Stockholm. Now- 20 years later, we worked together again! I am SO happy to make music with these gorgeous musicians. They did so well in Reykjavik, and I am happy that Desire encapsulated touched the audience, for many reasons. "Paula af Malmborg"
Paula af Malmborg Ward is one of our most distinctive opera composers. It is significant that her diploma work "The Bomb Party" (premiered in 1998 at the Gothenburg Opera) both had a breakthrough as a composer and, together with the final scene from "Of Mice and Men" which she wrote before, the decisive step into the opera composing. But versatility as a musician and composer is also attested. Born in 1962 in Stockholm, she was involved in popular music in various forms during her childhood, in parallel with studies in classical piano for prof. Gunnar Hallhagen She wrote songs, arranged, sang and played piano in several groups, she worked with theatermusic and TV.
She trained as a music teacher at the Royal Music Academy in Stockholm, and there also brought a passion for salsa music – then a relatively unknown genre in Sweden. After a couple of years as a musical leader af Skottes Musikteater in Gävle, she returned to school, where she was for 7 years, including studies for Hans Gefors at Malmö Academy of Music. Paula af Malmborg Ward has a remarkable ease of movement across genre boundaries, and over time this movement has been boiled down to one's own, unmistakable musical identity, music with a lively temperament and full of ideas. She says: "The only thing we can be absolutely certain of, and indisputable that we must conduct ourselves to, is that time passes. Therefore – time, and timing, is my first and largest parameter. I am really accurate with that. Once I have set the timing, I can then rummage around in melody, harmony, timbre and rhythm without losing sight of the piece as a whole. "
This "security system" makes her able to add f.ex. a touch of tango or bossa in a work if the context demands it. In many of her works the inspiration comes from text or picture, and often the humor has a prominent role, as in her lustful settlement with samba music in the orchestral work "Sambal Dente"
Ett stort tack till Musikaliska för upplåtande av lokal.
med reservation för ändringar