om ej annat anges:
Klubb 19 serveras från 20-24.00.
Lokal: Slottsgatan 19, Västerås.
Tid: Klubb ifrån 20.00   artister på scen: 21.00
Entré: 70 kr, studerande 40kr.
Entré för medlemmar: 50 kr / studerande 20 kr
Medlemsavgift: 20kr/år
Medlemmar som är 18 år eller yngre får alltid fri entré!
Tillgänglighet
se info om tillgänglighet för våra olika konsertlokaler på denna sida:
Ladda ner flyer här: https://www.nyaperspektiv.se/news/wp-content/uploads/flyer-fall-2017_webb.pdf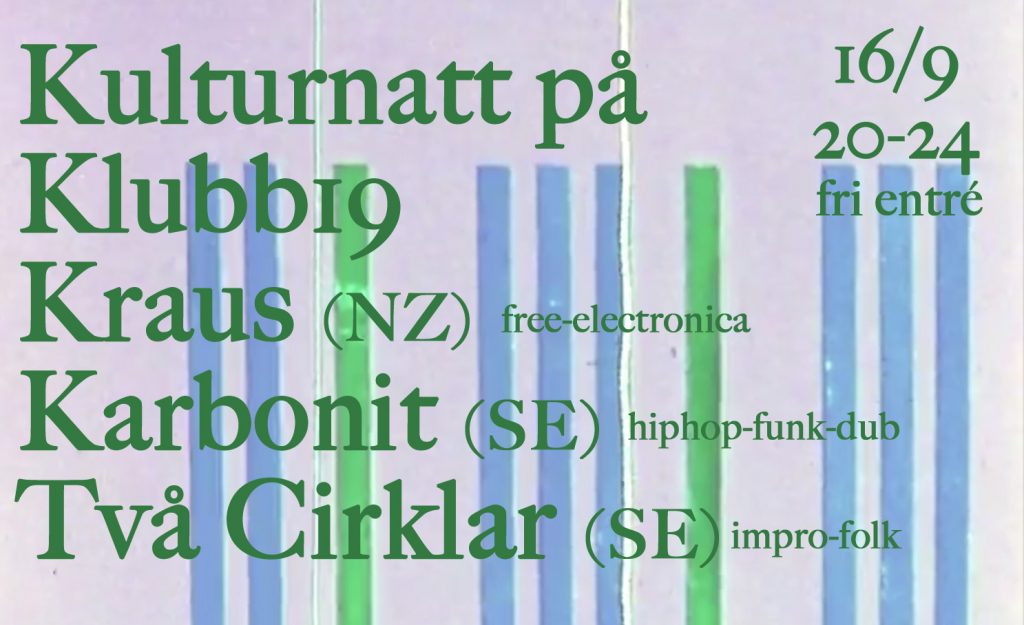 16/9 Kulturnatt på Klubb 19
Fri Entré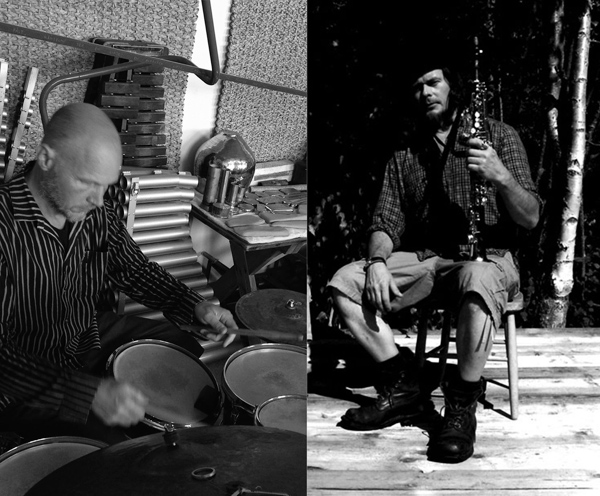 20.00 Två Cirklar (SWE)
Duon "Två Cirklar" aktualiserar en sedan 1999 pågående kontinuerlig improvisation, en fortsättning och ett återgivande av ett visst "konstituerande" tidsförlopp i samband med ett åskväder vid St. Olofsholm på Gotlands nordöstra sida…
Thommy Wahlström – sopransax
Pål Stenqvist – trummor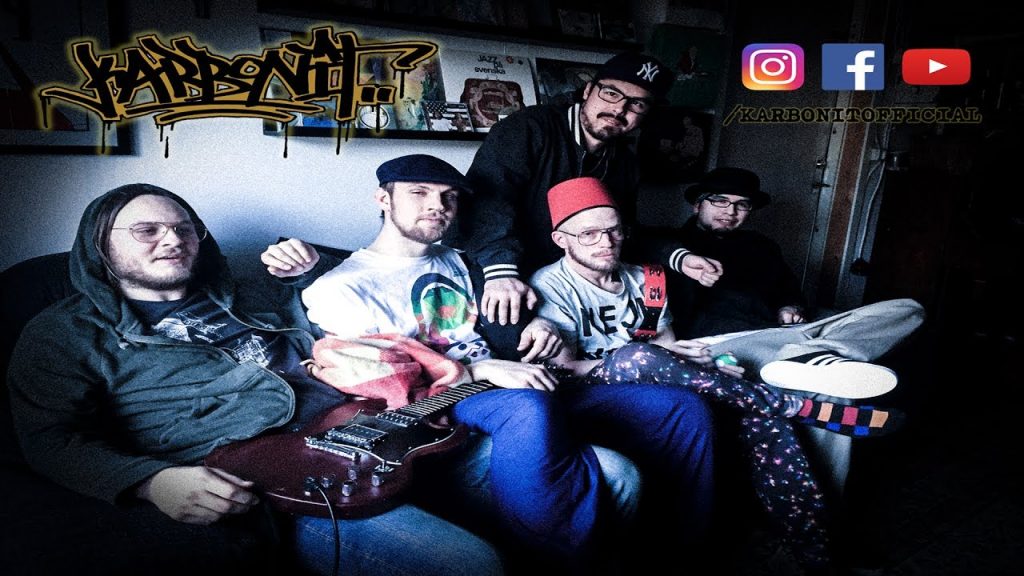 21.00 Karbonit (SWE)
Karbonit är ett band som i ett unikt sound blandar stilar som bland annat Hiphop, Funk och Reggae och levererar medryckande liveuppträdanden!
Peter Molotow – Sång
Jonas Scharafinski – Sång
Tim Valkeapaa – Gitarr
Camilo Muñoz – Bas
Martin Magnusson – Trummor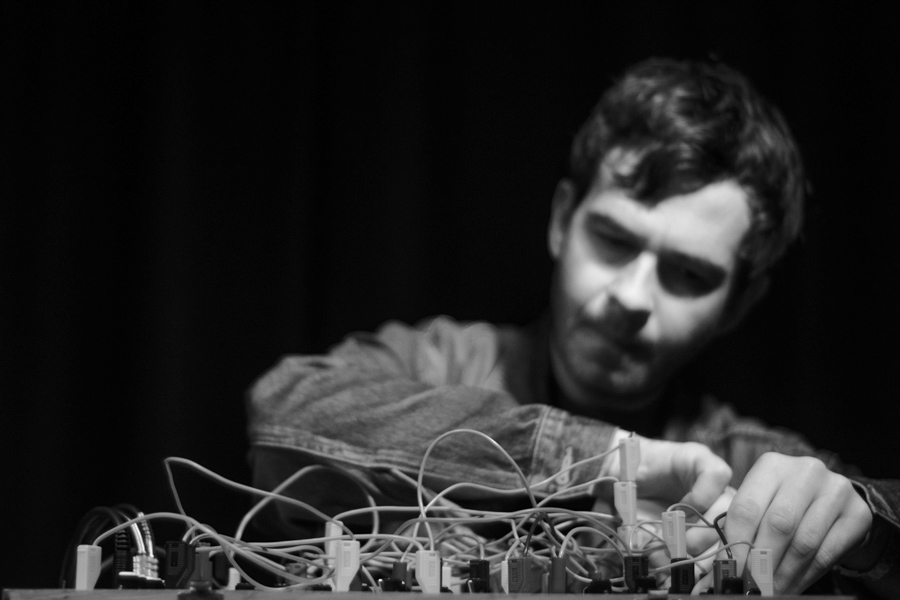 22.30 Kraus (NZL)
Med många år ifrån undergroundscenen i Auckland, Nya Zeeland skapar Kraus med sitt soloprojekt en värld där medeltida blues-melodifragment återfinns i lo-sci-fi klanger. En ekologi av ljud och rytmer som påminner om en resa in i ett alternativt framtida ihoplappat dataspel där huvudpersonen har blivit uppslukat i en värld av livnärande klanger och glömt bort spelet.
Kraus – modulsynth, processing, gitarr
7/10 Hypnotic Soul (SWE) / Heather Leigh (GRB)

21.00 Hypnotic Soul
Ett nytt spännande konstnärligt fusionsprojekt har fötts.
Carita Boronska, singer/songwriter och kompositör, kommer att framföra sina egna musikstycken samtidigt som konstnären Bengt Backlund målar live på scenen. Måleriet är baserat på gamla stumfilmer.
Den här gången är bildtemat Charlie Chaplin där färdiga målningar kommer att visas på scen och interagera med Caritas musik samtidigt som en ny bild skapas. Mötet mellan Caritas intima, visuella och melodiska musik och Bengts måleri skapar en unik föreställning med ett eget nyskapande innehåll. Ett levande och öppet projekt som fått namnet Hypnotic Soul.
Carita Boronska – sång, piano
Bengt Backlund – live måleri
http://thetonetailor.com/artists-2/hypnotic%20soul.html
Nya Arrangörer är en tvåårig, genreöverskridande satsning för att fånga upp och stärka nya arrangörsinitiativ och nätverk i det fria musiklivet med fokus på kunskapsutbyte, praktisk handledning och nationella nätverk. Nya Arrangörer är ett samarbete mellan Svensk Jazz, RFoD(Riksförbundet för Folkmusik och Dans) och RANK (Riksförbundet av Nutida Konstmusik).  läs mer här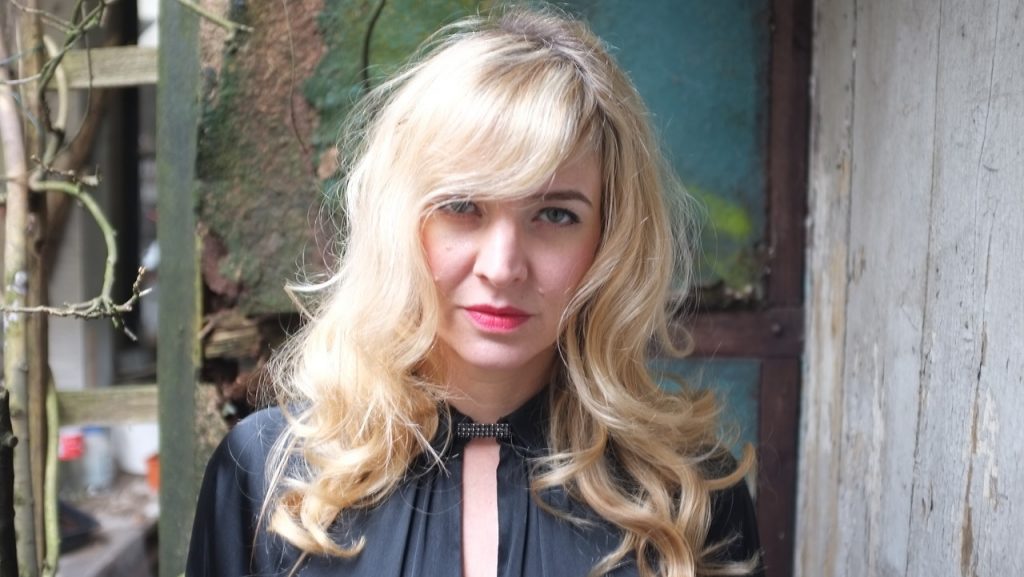 22.30 Heather Leigh (GRB)
With a rare combination of sensitivity and strength, Leigh's steel mainlines sanctified slide guitar and deforms it using hypnotic tone-implosions, juggling walls of bleeding amp tone with choral vocal constructs and wrenching single note ascensions. In late 2015, Heather Leigh released her first proper studio album, 'I Abused Animal' on Stephen O'Malley & Peter Rehberg's Ideologic Organ/Editions Mego labels to widespread acclaim. Renowned as a fearless free improviser, 'I Abused Animal' is a breakthrough work showcasing Heather Leigh's songwriting prowess, foregrounding her stunning voice and her innovations for the pedal steel guitar. Warmly recorded in a secret location in the English countryside, the album transmutes the power of her captivating live performances to a studio setting, capturing her tactile playing in full clarity while making devastating use of volume and space. Heather Leigh explores themes of abuse, sexual instinct, vulnerability, memory, shadow, fantasy, cruelty and projection across the album's psychedelic hymnals. At times the intimacy of the recordings makes you feel like she's singing directly into your ear, playing just for you.
Heather Leigh – Pedal Steel guitar
17/10 Junk Orbit (DEU/DNK) / Flamingo Trio (DEU)

21.00  Flamingo Trio (DEU/DNK)
Flamingo explores sound, texture and dynamics. Sometimes verging on the threshold of hearing and at other times engaging in dense layers and waves of sound, the music of Flamingo creates a poetic space in which pure sound phenomena step forth on the eternal backdrop of silence.Flamingo has performed at festivals and venues throughout Denmark, Germany and the US and released its debut album in May 2016, followed up by a live album in the autumn of 2017In May 2017, the trio completed a residency at Kunsthal Nord in Aalborg, Denmark, performing 72 concerts in a month and generating as many 3D printed sculptures. The project, named Every Vessel records and dramatises the history of its manufacture is a unique and cutting-edge multimedia installation integrating live performance, motion and gesture tracking, machine-learning and 3D printing to create a visual representation of music and its environment.Expanding the trio with sound artists and engineer Roy Carroll, Flamingo occasionally performs the immersive sound piece LOUD. In LOUD, quiet sounds and textures are amplified with precise microphone placement and eq, while Carroll is an active player in the group, letting the loudspeakers become instruments in themselves.
Chris Heenan – Contrabass Clarinet
Adam Pultz Melbye – Double Bass
Christian Windfeld – Snare Drum and Objects
22.00 Junk Orbit (DEU)
A team-up of  Berlin's Echtzeit-percussionist Burkhard Beins, Cologne's up-and-coming electric guitarist Nicola Hein, Viennese saxophonist Gregor Siedl and  Lan Cao on analogue synthesizer for a highly energetic yet very distinctive electro-acoustic hybrid. In Junk Orbit their solar sails are constantly threatened by widely unpredictable chunks of cultural debris.Gregor Siedl  – amplified saxophone
Lan Cao  – analogue synthesizer
Nicola Hein – electric guitar and treatments
Burkhard Beins – electro-acoustic percussion
[caption id="" align="alignnone" width="191"]

med turnéstöd ifrån Riksförbundet för arrangörer av nutida konstmusik[/caption]
18/11 Rebecca Digby / Tentakel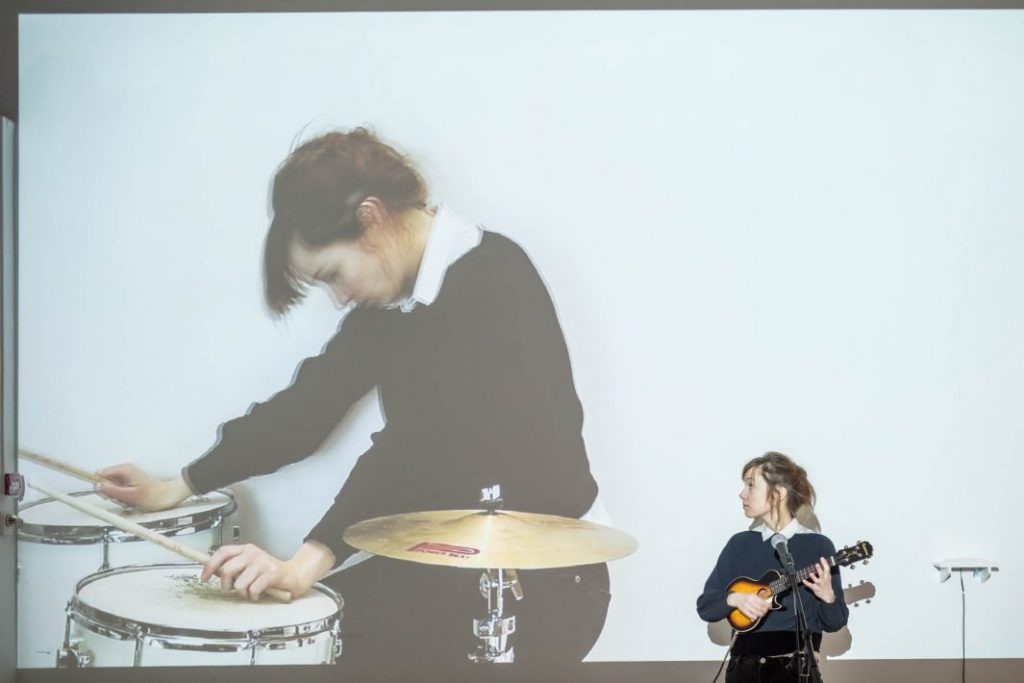 21.00 Rebecca Digby
Totalkonst av en Sveriges smartaste konstnärer. Form, perception, bild och musik upplöses i ett namnlöst verk för röst, instrument och projektion.
Rebecca Digby – röst, ukulele, video, performance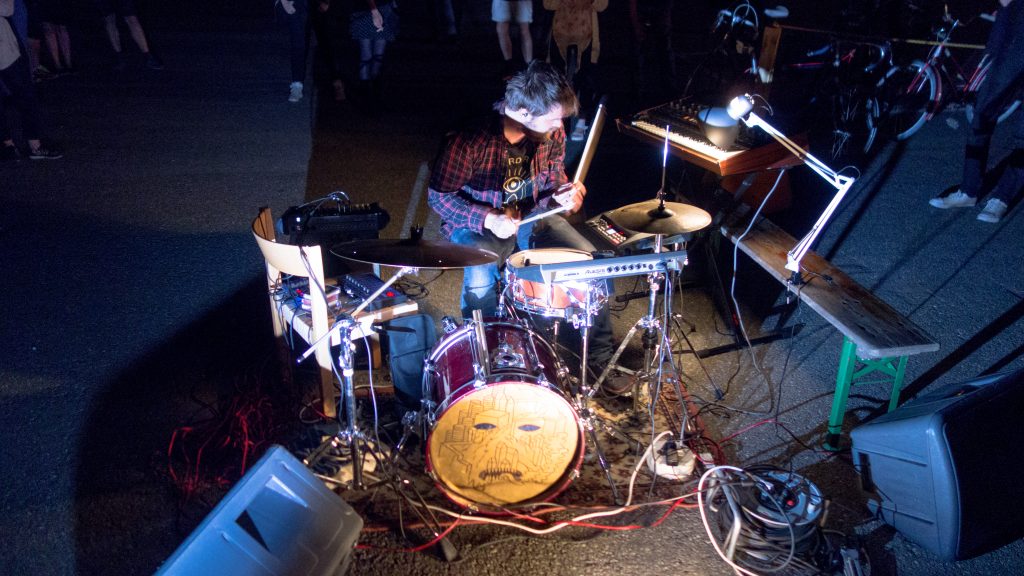 22.00  Tentakel
Göteborgs mest maniska trumslagare Pontus Torstensson (URAN, The Exorcist GBG) har skapat en enmansarmé: TENTAKEL.
Som Tentakel skapar han experimentell, hårdsvängande och rytmbaserad musik som ekar av krautrock, jazz och dub.
Den mörka stämningen och det hårda drivet är genomgående. "Kosmisk punk-kraut-techno med ambienta element" kallar han det själv. Aktuell med den nya skivan TwoFace som släpps på Zeon Light Skiva.
Pontus Torstensson – trummor, synth och processing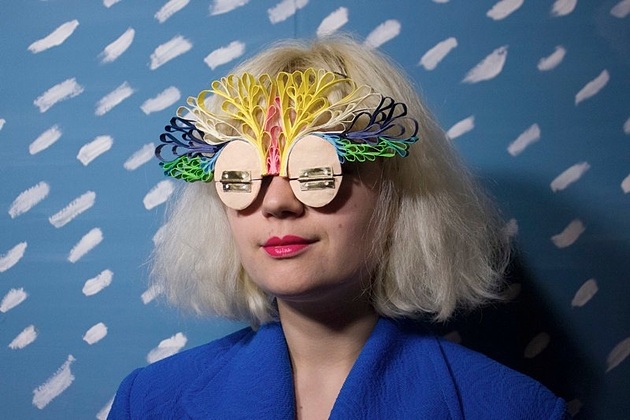 25/11 Mary Ocher
Född i Moskva. Uppvuxen i Israel. Numera boende i Berlin.Hennes riktiga namn är Mariya Ocheretianskaya och denna gränsöverskridande experimentella singer/songwriter/poet/konstnärinna har de senaste åren hänfört publik över hela världen med sin alldeles egna mix av skev folkmusik, vild punk och elektroniska landskap. Ibland blir hon kallad för en "outsider artist" eftersom hon anses som för svår att kategorisera in i en viss genre. Hennes nya album "the west against the people" är inspelat och producerat av Hans Joachim Irmler från Kraut-legenderna Faust och är ett djupt politiskt och spännande album.Vad vi har att förvänta oss av denna kvällen har vi inte en aning om, mer än två egensinniga, kompromisslösa musiker.  Och som vi ser fram emot detta!
Mary Ocher – sång, elektronik, keyboard, samples

2/12 Oma333 4 years – Live: Kali Malone and CHIAB
Bakom kultstämplade kassettbolaget Oma333 döljer en eldsjäl för den progressiva undergroundmusiken. Gavin Maycroft startade etiketten i början av 2013 och har gett ut ett antal intressanta utgåvor av samtida musik inom ett brett spektrum det "alternativa området".  Vi vill med denna kväll aktualisera den viktiga roll som små independent-bolag har i dag för musiklivet och dess roll som kuratorer och investerare för nya musikstilar.   Deras konstnärliga arbete fungerar som plattformar och nätverk för musiker att möta sin publik men också kreativa zoner som är fristående och utvecklas i den riktning som står bakom engagemanget.
Några band presenteras under kvällen och Gavin står bakom kassettspelarna mellan akterna.  Programmet uppdateras på hemsidan.
Brit escapee Gavin Maycroft has been an active presence in the underground music scene for a helluva long time now, DJ-ing all over the place and setting up shows in his Stockholm base for years now. It's good news, then, that he's put his incredible music knowledge, great networking skills and superior taste to the benefit of the world through his label Oma333. Existing for only three years, Oma333 already has a good couple of dozen releases under its belt, all beautifully presented and guaranteed to make your day.  Subbachultcha Nov 2016
 med reservation för ändringar