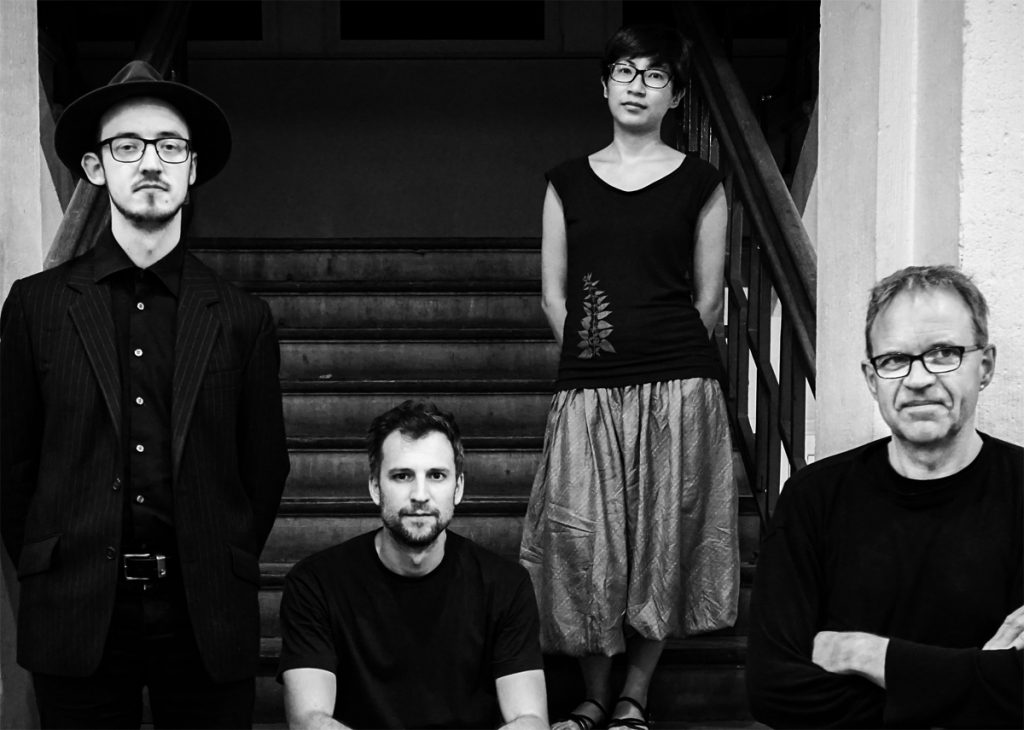 21.00 Junk Orbit (DEU)
A team-up of  Berlin's Echtzeit-percussionist Burkhard Beins, Cologne's up-and-coming electric guitarist Nicola Hein, Viennese saxophonist Gregor Siedl and  Lan Cao on analogue synthesizer for a highly energetic yet very distinctive electro-acoustic hybrid. In Junk Orbit their solar sails are constantly threatened by widely unpredictable chunks of cultural debris.
Gregor Siedl  – amplified saxophone
Lan Cao  – analogue synthesizer
Nicola Hein – electric guitar and treatments
Burkhard Beins – electro-acoustic percussion
22.00  Flamingo Trio (DEU/DNK)
Flamingo explores sound, texture and dynamics. Sometimes verging on the threshold of hearing and at other times engaging in dense layers and waves of sound, the music of Flamingo creates a poetic space in which pure sound phenomena step forth on the eternal backdrop of silence.
Flamingo has performed at festivals and venues throughout Denmark, Germany and the US and released its debut album in May 2016, followed up by a live album in the autumn of 2017
In May 2017, the trio completed a residency at Kunsthal Nord in Aalborg, Denmark, performing 72 concerts in a month and generating as many 3D printed sculptures. The project, named Every Vessel records and dramatises the history of its manufacture is a unique and cutting-edge multimedia installation integrating live performance, motion and gesture tracking, machine-learning and 3D printing to create a visual representation of music and its environment.
Expanding the trio with sound artists and engineer Roy Carroll, Flamingo occasionally performs the immersive sound piece LOUD. In LOUD, quiet sounds and textures are amplified with precise microphone placement and eq, while Carroll is an active player in the group, letting the loudspeakers become instruments in themselves.
Chris Heenan – Contrabass Clarinet
Adam Pultz Melbye – Double Bass
Christian Windfeld – Snare Drum and Objects
Klubb 19 serveras från 20-24.00.
Lokal: Slottsgatan 19, Västerås.
Tid: Klubb ifrån 20.00   artister på scen: 21.00
Entré: 70 kr, studerande 40kr.
Entré för medlemmar: 50 kr / studerande 20 kr
Medlemsavgift: 20kr/år
Medlemmar som är 18 år eller yngre får alltid fri entré!